German Centre for Neurodegenerative Diseases
The German Centre for Neurodegenerative Diseases (DZNE) is a member of the Helmholtz Association in Ulm.
Since its founding in 2009, the DZNE has been conducting basic neurological research and applied clinical research in the field of neurodegenerative diseases and dementias. It is also the first member of the German Centres for Health Research (DZG).
Top of the Line Neurological Research in Ulm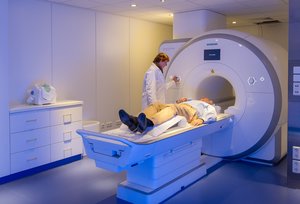 Ulm is considered a centre of top neurological research. As a DZNE member, Ulm benefits from the nationwide GCND network which enables cross-site research, providing a platform for regular exchange of expertise as well as national and international partnerships.
There are more than 1100 employees throughout Germany. Nationwide, over 80 work groups combine the research institution's broad expertise.
Further partnerships exist with Ulm University, the city's university hospital and the university and rehabilitation clinics (RKU).
Growing Research Field: Translational Research
A key focus of the DZNE, specifically at its Ulm site, is translational research. This is the rapid adoption of scientific results from basic research into clinical application. New diagnostic and therapeutic procedures are being developed, with research focused on developing therapies for neurodegenerative diseases.
DZNE Ulm specialises in rare neurodegenerative nerve diseases such as Amyotrophic Lateral Sclerosis (ALS), Frontotemporal Dementias (FTD) and Huntington's disease. Their goal is to develop preventive and therapeutic approaches.
In Ulm, emphasis is placed on human research. Based on in-vitro and in-vivo systems, the expression pattern of drug-target molecules for research into human tissue is investigated first. Based on this, biomarkers are searched for at peptide and protein, but also at transcriptome level. The goal: to make clinical trials more cost-efficient and effective, including the utilisation of toxicologically known drugs for new indications.
Innovative Therapy Approaches
Innovative therapy approaches that build on this research include the use of antisense oligonucleotides, gene replacement therapy, and applying nanoparticles to cross the blood-brain barrier. In order to expand applied clinical research in the coming years, a clinical study centre and a research group for innovative therapy approaches will be created at DZNE Ulm.
Against this background, the BioPharma Cluster South Germany will continue to grow over the next few years. The German federal government and the state of Baden-Württemberg will invest in the cluster and its region. Among other things, a separate research building is to be built for DZNE in Ulm.