Future Industry with Perspectives
With about 100 companies in the field of biopharmaceuticals and medical biotechnology, the BioPharma Cluster South Germany offers a wide range of opportunities for young people. The ambitious talents and future specialists.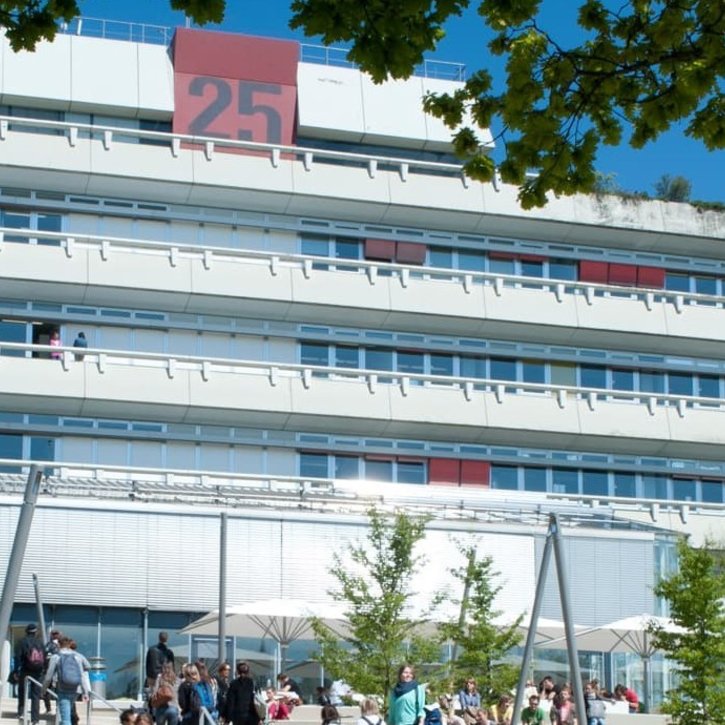 The region between the German city of Ulm and Lake Constance is one of the highest-grossing and most important research and development hubs of Germany's pharmaceutical industry. Renowned universities offer a wide range of classes.
Every year approximately 1,100 of the region's trainees and students successfully complete a training programme with a focus on pharmaceutical biotechnology. Their hiring chances in the region after graduating are very good. The companies invest in their future employees and, with trainee programmes, provide an excellent start into the professional world.
Various Training Opportunities
The five largest companies of the BioPharma Cluster alone offer more than 450 training spots. The range of occupational fields is wide and includes jobs from the commercial sector with a focus on technology, research and IT in the form of dual-education classes.
The companies located within the region put a huge emphasis on promoting young professionals. There are corporate learning centres in Biberach and Ingelheim that offer special classes and programmes to deepen the education of the vocational school. A mentoring programme supports trainees during their training, and many companies offer the option of traineeships abroad.
Partnerships with secondary schools promote young scientists. Network University Secondary School Industry is a partnership of Ulm University and the local industry with 20 partnering secondary schools. Thanks to this initiative, roughly 14 secondary schools have an approved S1 genetic engineering laboratory. The schools operate independently of the university and the companies, expanding their scientific know-how.
Vetter
"Even while at school, I realised, chemistry is my thing. Then I came to Vetter. What can I say? It's the perfect match!" – Ines Habersetzer, former apprentice chemical laboratory assistant.
Boehringer Ingelheim
"As a biology lab technician, I can actively work on researching and developing new drugs." – Nathalie Okogun, biology lab technician
Teva
Testimonials for education as videos
Intern testimonials
Different Courses of Study up to Doctorate
Numerous internationally renowned universities of applied sciences offer bachelor's and master's degree programmes in the field of biotechnology and pharmacy in the BioPharma Cluster South Germany. In many programmes, students are in direct contact with local companies. This type of partnership promotes practical research and provides students with insights into current research projects. The early interaction with the companies also opens up good opportunities for their entry into the industry.
The different universities of applied sciences in Ulm, Biberach, Aalen, Albstadt-Sigmaringen, Esslingen and at Ulm University offer a variety of courses focusing on biopharmaceuticals and pharmaceutical biotechnology. They also offer their students the academic career path towards doctoral studies.
University graduates can further qualify their studies scientifically. The School of Advanced Professional Studies (SAPS) provides practice-oriented expertise and management skills in certificate classes and masters courses.
Excellent conditions for apprentices and skilled workers distinguish the BioPharma Cluster South Germany, including attractive income, additional benefits such as holiday bonuses, annual payments and retirement plans.
Due to the companies' and institutions' strong international emphasis, work-specific English classes are offered and promoted by the companies.
Many companies also offer their employees a variety of exercise programmes; from occupational health management to sports classes such as judo, fitness or yoga.
BioPharma Cluster employees are also supported when it comes to balancing their work and family life, offering them flexible work schedules and company-owned kindergartens.
Qualification and Training
Ulm Chamber of Commerce and Education Centre in Partnership with (Bio)Pharmaceutical Companies
Ulm Chamber of Commerce basic and advanced training
Olgastraße 95-101
89073 Ulm
Germany
Assistant for Biotechnical Production (Biopharma)*
Biotechnology Specialist**

* in-house training classes at Boehringer Ingelheim, Biberach
** in-house classes at Boehringer Ingelheim, Biberach
Academy of Science, Economics and Technology at Ulm University
Network University Secondary School Industry