A career in the BioPharma Cluster
Do you want to build a meaningful career and help change the life of patients? Start your career in a dynamically growing, highly innovative, future-proof field of the healthcare industry!
Biotechnology revolutionized the diagnosis and treatment of serious diseases, including cancer, rheumatoid arthritis, and multiple sclerosis, and continues to advance modern healthcare. Biological therapies are becoming an integral part of medicine. Biopharmaceuticals account for almost half of all new registrations.
As the center of the sector in Europe and at the heart of the industry worldwide, Germany's medical biotechnology industry is thriving. With a growth rate of 10,2 %, it is outperforming the pharma industry, and its workforce crossed the 46.000 mark.
The BioPharma Cluster South Germany is one of the world's leading biotech hubs for developing and producing biopharmaceuticals. Our regional players, located along the axis Ulm-Laupheim-Biberach-Ravensburg, strive to discover, develop and deliver breakthrough medicines and healthcare solutions.
A unique infrastructure with global leaders, small-medium-sized companies, world-class research institutions, and municipal partners allows us to create a dynamic environment across the entire biopharmaceutical value chain. But people are the most valuable asset to our mission to cure unmet medical needs. Our cluster is a driver of medical progress thanks to the commitment, passion, and pioneering spirit of our workforce.
Universities, small-medium-sized companies and global corporations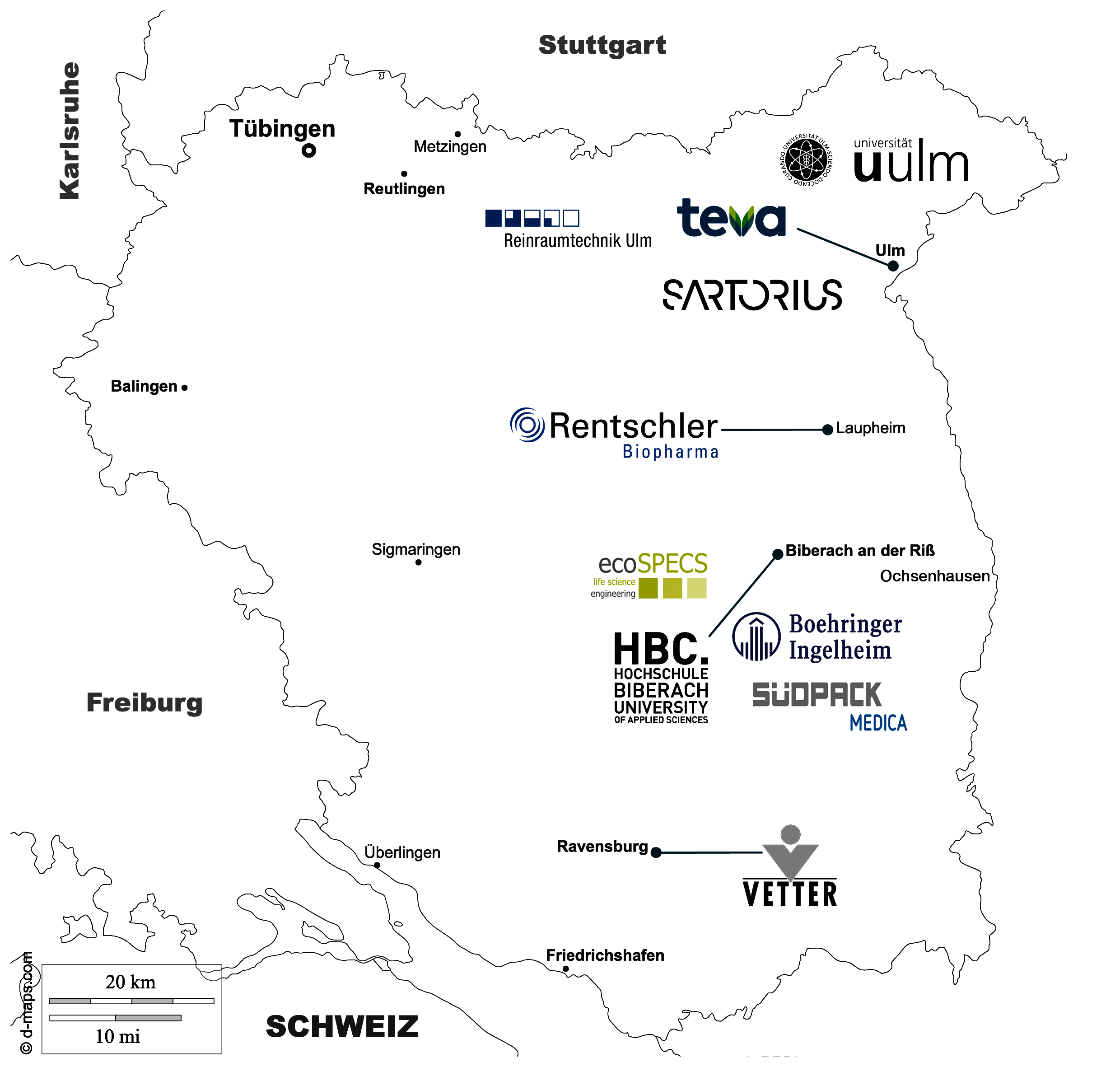 The professional world of biopharmacy
With biopharma, it's more than a job or a career. It's a calling!
If you want to start or drive your career in biopharma and medical biotechnology, the BioPharma Cluster is an option worth considering.
The region between the city of Ulm and Lake Constance features a variety of educational and career paths: From vocational training, dual study programs, academic studies, internships, and theses (bachelor, master, doctoral) to working student positions, trainee programs, post-doc-positions, and direct entries for professionals of all experience levels.
More than 13,000 employees are already at the forefront of pushing the boundaries of medical biotechnology and delivering life-changing medicines to patients. And our regional players are still hiring!
Explore our current job opportunities and find out if the BioPharma Cluster South Germany is the right career path for you!
▷ Biberach & Ochsenhausen