BioPharma Cluster South Germany: Region of Innovations
The BioPharma Cluster South Germany is a leading biotech hub and the global foundation of biopharmaceutical development and production.
Nearly half of all EU-certified, active biopharmaceutical ingredients in Germany are produced in the BioPharma Cluster South Germany. The region between the German city of Ulm and Lake Constance is one of the highest-grossing and most important research, development and production areas of the country's pharmaceutical industry. It has more than 100 biotechnological, pharmaceutical and medical technology companies and research institutions.
The focus of research in this area is on medical biotechnology, also known as 'red biotechnology'. Companies in the cluster design therapeutic and diagnostic procedures and conduct research in the field of personalised medicine, making a unique contribution to the healthcare of the future.
The BioPharma Cluster South Germany builds on a unique national and international research network. A wide range of partnerships between industry and science with high potential for development pave the way for new technologies, procedures and methods in the field of medical biotechnology. Regional partners include Ulm University as well as the Ulm and Biberach Universities of Applied Sciences. The university association InnoSÜD is part of the federal-state funding initiative "Innovative University of Applied Sciences".
Ulm SciencePark has also established numerous innovative companies, including successful spin-offs of their universities. The An-Institutes, jointly supported by the German federal state of Baden-Württemberg and the industry sector, see themselves as a link between research and industrial development.
More than 26 members of the cluster from the fields of industry, science and politics actively contribute to its growth and development, including leading international companies such as Boehringer Ingelheim, Rentschler Biopharma, Sartorius Stedim Cellca, Teva and Vetter.
High Potential of Medical Biotechnology
With the BioPharma Cluster South Germany, Germany is expanding its global leadership position in the field of biotech research and production. The cluster covers the complete biopharmaceutical value chain.
Biotechnology is becoming a branch of the future, leading the way for the entire pharmaceutical sector. In Germany alone, the number of approved biopharmaceuticals has doubled between 2005 and 2018 to a total of now 311 certified ingredients. Prognoses show that the proportion of biopharmaceuticals that are personalised will continue to grow strongly.
Biopharmaceuticals can already relieve or permanently cure many diseases for which there were previously no or only partially successful treatment options. These include anaemia, multiple sclerosis and rheumatism. In the areas of immunology, metabolism, oncology and diseases of the central nervous system, new product innovations are constantly being added.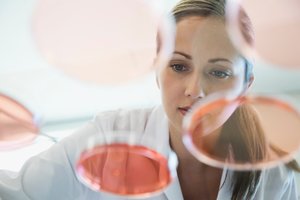 Biopharmaceuticals lead the way in delivering pioneering treatments in immunology and immune-oncology. The biotech industry continues to grow and is essential in driving pharmaceutical innovation. Located in southern Germany, the BioPharma Cluster is at eye level with international competitors in San Francisco, Boston or Singapur."
An Ever-Expanding Business Hub
250
Estimated global market volume of medical biotechnology: Approx. €250 billion ...
10%
With this sales growth biotechnology is well ahead of other healthcare subsectors ...
3%
Sales growth of traditional pharmaceutics
The global market volume of medical biotechnology alone is currently estimated at around €250 billion. With sales growth of 10%, biotechnology is well ahead of other healthcare subsectors, such as traditional pharmaceuticals (approximately 3%) and medical technology (approximately 6%).
As a business and research hub, the BioPharma Cluster South Germany provides a key contribution to creating value in the region and all of Germany. By continuously investing, the path for further sustainable growth in the region is being paved.
The BioPharma Cluster South Germany promotes a versatile, innovative landscape with strong partners. Teva, for example, is building a new biopharmaceutical production facility in Ulm for €500 million. In 2018 alone, Vetter invested approximately €150 million in modern technologies at all of its sites. At its Biberach site, Boehringer Ingelheim is building a new development centre for biopharmaceutical drugs, investing a total of €230 million by 2020.
Above-average conditions, specific consultative services and support programmes make BioPharma South Germany very attractive for companies. Regional and local players such as districts and municipalities contribute to a dynamic and innovation-promoting environment.
The BioPharma Cluster offers companies advice regarding current support programmes from the German federal government, its federal states and the European Union. The cluster also supports companies in identifying suitable project partners from industry and science.
Excellent Work Environment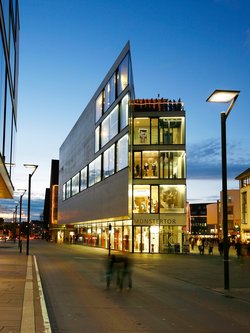 The BioPharma Cluster South Germany provides an excellent work environment and exceptional research conditions in the field of medical biotechnology. This is opening up the region's opportunity to shape ground-breaking technology for the coming decades and to establish itself as the centre of biotechnology in a sustainable and versatile way.
Economic-scientific partnerships like the Boehringer Ingelheim Ulm University Biocentre (BIU) or the An-Institutes, jointly supported by the German federal state of Baden-Württemberg and the industry sector, offer optimal conditions to successfully utilise the potential of biotechnology.
Perspectives and Quality of Life in the Region
Whether regarding income, attractiveness of the area or the job market, the BioPharma Cluster South Germany ranks at the top. The city of Ulm ranks among the top ten regions in Germany according to "The Great Germany Study: The Best Places to Live".
More than 12,500 people work in the BioPharma Cluster South Germany. With over 5,000 employees, Boehringer Ingelheim operates the cluster's largest research, development and biopharmaceuticals site in the German town of Biberach an der Riss, making it one of the most important R&D locations of the pharmaceutical industry in Germany. Global partnerships and medium-sized companies offer specialists and executives attractive job opportunities and apprenticeships, as well as excellent prospects for their professional development.
Located between the German city of Ulm and Lake Constance, the BioPharma Cluster South Germany is characterised by a high quality of life in one of the most scenic areas in Germany. An eclectic range of recreational and cultural activities add to the special features of the region. It also boasts great infrastructure and fast transportation options to the centres of Stuttgart, Munich, the Alps and Switzerland.
Families and international professionals will find a cosmopolitan and family-friendly atmosphere, plus a wide range of schools and day-care centres – including many international facilities – to choose from.
Explore more about the region of innovations