Boehringer Ingelheim Ulm University Biocentre
Top-level research, a science-oriented degree programme and strong partnerships within the industry sector characterise Ulm University.
Under the leadership of its medical faculty and with the support of the Ministry of Science of the German federal state of Baden-Württemberg and Boehringer Ingelheim, the university founded the Boehringer Ingelheim Ulm University BioCentre (BIU) research association.
The partnership agreement (as a public-private partnership research association) was signed in 2011 by Ulm University and Boehringer Ingelheim. Their goal is to identify cellular and molecular target molecules, which could mean pathways to the development of new therapeutic concepts.
An open dialogue between the university and industry eases the transfer of research results from clinical basic research into industrial development and clinical application. BIU has a total of four research profiles that work with neuropsychiatric and cardiometabolic diseases.
For example, molecular and cellular changes related to obesity and diabetes are being investigated. Other key topics include regulatory processes in inflammatory diseases, the characterisation of the involved cells and the analysis of changes in the lung epithelium in the context of diseases.
The research association pursues two goals. One is the characterisation and analysis of signal transduction pathways and their dysregulation. The second, identification and characterisation of new biomarkers required for innovative clinical studies. The focus is mainly on early preclinical analyses.
The joint projects, carried out by Boehringer Ingelheim and the researchers at Ulm University, offer both partners access to developments in basic clinical research as well as in the development of new therapeutic interventions.
Extended Term for BIU
Following BIU's successful interim evaluation in 2016, a second funding period was approved for three years.
Together, Boehringer Ingelheim, the state of Baden-Württemberg and the medical faculty of Ulm University support BIU with a total funding of 4.5 million euros.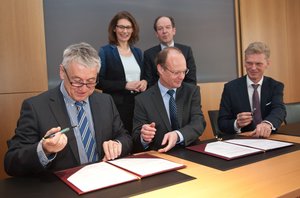 During contract signing for the second funding period: front (from left): Prof. Dr. Thomas Wirth, Prof. Dr. Michael Weber, Prof. Dr. Eric Haaksma; back (from left): Dr. Simone Schwanitz (Ministerial Director at MWK) and Prof. Dr. Klaus-Michael Debatin. © Elvira Eberhardt