25.01.2021
Boehringer Ingelheim is Global Top Employer 2021
Well-Deserved Recognition: The Top Employers Institute awarded Boehringer Ingelheim as a one of the world's 16 best employers.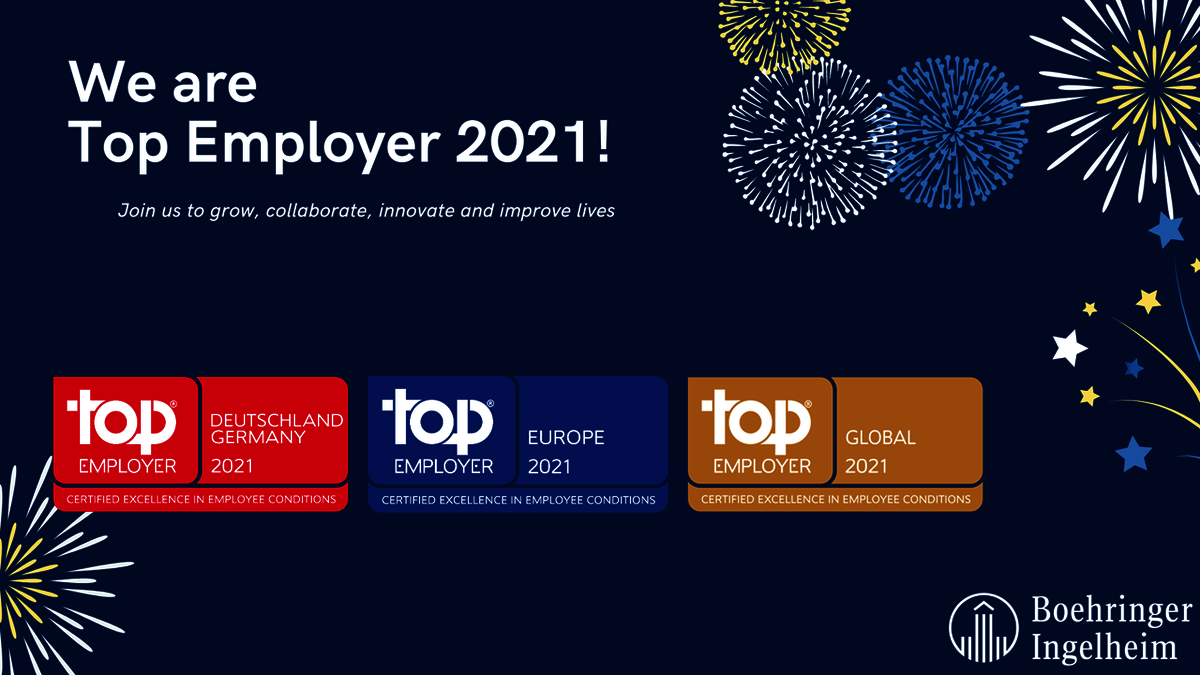 For the first time, Boehringer Ingelheim achieves the "Global Top Emplyer" status. The company is one of the world's leading sixteen organisations this year that have been successfully certified as leaders in HR for their outstanding strategies and excellence in people practices.
The award shows that the research-driven pharmaceutical company is strongly oriented to the needs and well-being of its employees. Becoming a "Global Top Employer" is the well-deserved recognition for Boehringer Ingelheim's consistency in positively impacting the lives of the company's employees and enriching the world of work on a truly global stage.
Awards in 27 countries
Certification is based on a multi-level program with detailed final feedback. In order to become recognised as a "Global Top Employer", these organisations are certified as Regional Top Employers in a minimum number of countries and regions. They must also be certified in the country where their international headquarters are based.
Boehringer Ingelheim has been listed among the top employers in many countries and regions for the past seven years. This year, Boehringer Ingelheim will receive the award in 27 countries, as well as in Europe and the Latin America and Asia-Pacific regions. The independent Top Employers Institute certifies employers worldwide who wish to offer their employees excellent working conditions and support their development.
Strategy, corporate culture and employee involvement
Compared to its competitors, the company particularly impressed with its successful long-term strategic orientation, as well as with a modern management culture and successful communication with employees. The Top Employers Institute also highlighted the strong, inclusive corporate culture. All of this leads to close ties and loyalty among employees and to the company. The family business also takes care of individual development opportunities through tailor-made education and training programs throughout the employee's working life.
Another point mentioned by the jury relates to the ethical, inclusive approach to corporate decisions and a clear focus on the transfer and application of company values. In addition to the traditional pharmaceutical business, successful initiatives such as Making More Health (MMH) at Boehringer Ingelheim help to continuously improve health care worldwide.
More information about Boehringer Ingelheim can be found at www.boehringer-ingelheim.com or in the annual report: http://annualreport.boehringer-ingelheim.com.
Resources

Boehringer Ingelheim. (2021, January 25). Award: Boehringer Ingelheim is Global Top Employer 2021 [Press release].