14.06.2021
Jointly advancing the European quantum technology in the German and European Market
Quantum computing in Biopharma R&D: Boehringer Ingelheim joins the Quantum Technology and Application Consortium as a founding member.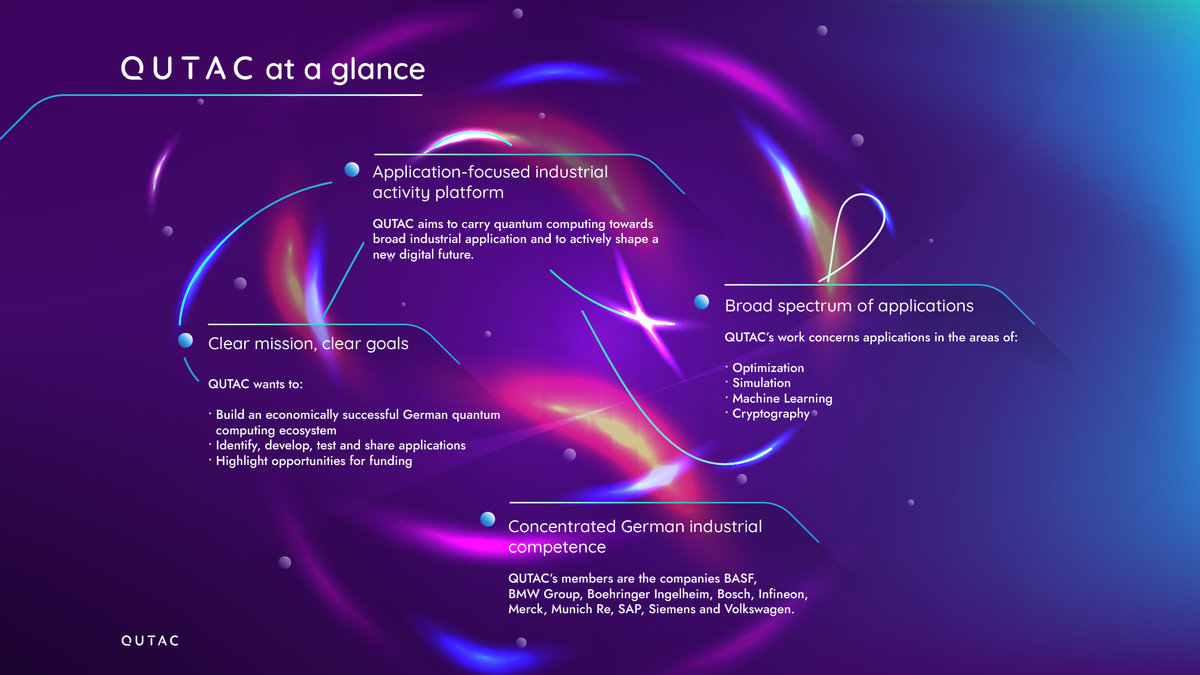 Ten leading German companies – including Boehringer Ingelheim – join forces and found the Quantum Technology and Application Consortium (QUTAC) to advance this technology in the German and European market. QUTAC's vision is to drive an economically strong and resilient quantum computing ecosystem in Germany and Europe.
Raising quantum computing to the level of large-scale industrial application

This consortium unites companies from the fields of chemistry and pharmaceuticals as well as from the insurance business and the automotive industry. Their aim is to further develop the existing fundamentals of quantum computing into usable industrial applications. The consortium promotes applications for the commercial use of this technology that are needed in the member companies.
QUTAC sees itself as a platform for action. Together, the members want to explore possible applications for quantum computing and their potential for industrial realization. Specifically, applications for the technology, chemical and pharmaceutical, insurance and automotive industries are to be brought to market maturity.
In its position paper, QUTAC sets specific steps: First, the need for quantum computing in the German economy is to be identified in order to create the basis for a cross-industry application portfolio. Currently, possible applications are being identified and their potential for industrial implementation is being evaluated. These reference applications will be jointly implemented and further developed beyond the boundaries of the consortium.
"As part of QUTAC, we will contribute to further advance the research for industrial solutions in the field of quantum computing," says Michael Schmelmer, Member of the Board of Managing Directors of Boehringer Ingelheim with responsibility for Finance and Group Functions. "Together with our partners at QUTAC, we want to create the basis for an efficient use of the quantum computing potential in the future. Even though it may still take some years until this technology is ready for industrial use, we need to define and explore a variety of specific use-cases across several industries now."

Great potential for pharmaceutical research and development

In terms of the pharmaceutical industry, quantum computing has an enormous potential for research and development. Within QUTAC, Boehringer Ingelheim will investigate quantum computing as an opportunity to advance the discovery of new medicines by complementing and accelerating laboratory research through the aid of computer simulations.
Quantum computers could accurately simulate and compare much larger molecular structures. This could have significant implications for early research processes. By speeding up and optimizing these early research processes, future stages of research and development could also see additional positive outcomes. Therefore, quantum computing could open up entirely new possibilities for pharmaceutical innovation and therapies for a wide range of diseases.
For Boehringer Ingelheim, the investment into the research of quantum computing is thus a long-term investment, as Michael Schmelmer explains: "Last year, we set up a dedicated Quantum Lab to explore specific applications for pharmaceutical research and development. Apart from these internal developments, partnerships with academia and the industry play an important role." This is why Boehringer Ingelheim already announced a research partnership with Google Quantum AI in January 2021. Both companies conduct fundamental research. Together with QUTAC, Boehringer Ingelheim wants to explore further applications for quantum computing.

The foundation stone for a commercially successful quantum computing ecosystem

Anja Karliczek, Federal Minister of Education and Research, also welcomes the establishment of QUTAC: "Germany and Europe must become leaders in quantum technology and then stay at the top. What we want is technological sovereignty. To achieve this, we must rely on our strengths. These are our top researchers with their excellent ideas on the one hand and our strong industry on the other hand. Both must cooperate in an optimal way. Then we will achieve the best results. We are therefore funding companies and cutting-edge research under the quantum technologies framework programme."
About QUTAC

The founding members of QUTAC include BASF, BMW Group, Boehringer Ingelheim, Bosch, Infineon, Merck, Munich Re, SAP, Siemens, and Volkswagen. Within the framework of various development projects, the members are decisively driving forward the first practical applications in the field of quantum computing in their respective industries and also across sectors. The aim of the consortium is to identify, develop, test, and share applications for quantum computing and to identify funding needs.
Resources

Boehringer Ingelheim (2021, June 10). Quantum Computing: Boehringer Ingelheim is a Founding Member of QUTAC [Press release].
QUTAC (2021, June 10). Quantum Computing: Leading German corporations agree on large-scale application [Press release].