02.02.2021
CureVac and Rentschler Biopharma Ramp up Manufacturing of COVID-19 Vaccine, CVnCoV
CureVac further strengthens its global manufacturing network: Rentschler Biopharma is responsible for manufacturing, downstream processing and formulation of CureVac's CVnCoV at its site in Laupheim.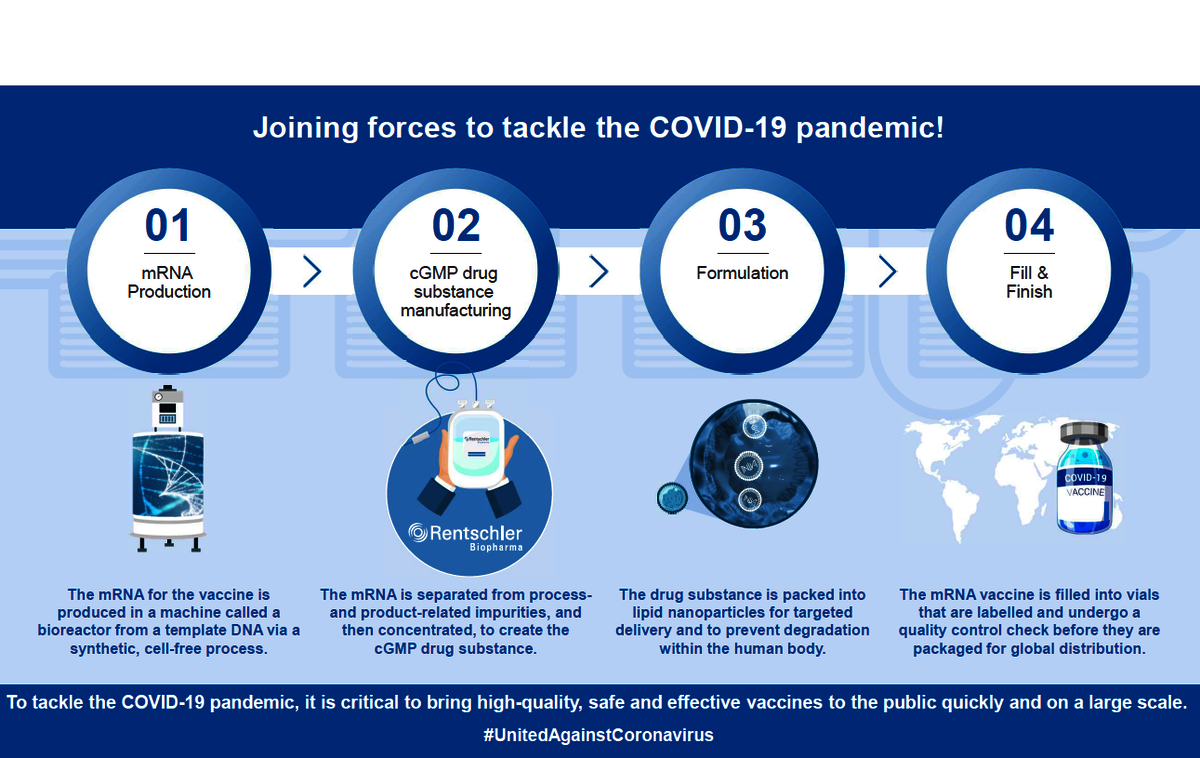 The Tuebingen-based biotechnology company CureVac N.V., a pioneer in developing a new class of drugs using the therapeutic potential of messenger ribonucleic acid (mRNA), and Rentschler Biopharma SE, a leading global contract development and manufacturing organization for biopharmaceuticals, have initiated the set-up of manufacturing capabilities for CureVac´s COVID-19 vaccine, CVnCoV.
Rentschler Biopharma is gearing up for largescale cGMP (Current Good Manufacturing Practice) production of the formulated mRNA for CVnCoV. Rentschler Biopharma contributes to the manufacturing of active pharmaceutical ingredient, downstream processing and formulation of drug substance for the vaccine.

An expected manufacturing capacity of more than 100 Million doses of the CureVac vaccine per year
The companies entered into a collaboration in November 2020 with the set-up of dedicated production lines at the Rentschler Biopharma site in Laupheim, Germany. Currently, optimization of the production process is taking place to increase mRNA yield.
Dr. Florian von der Mülbe, Chief Production Officer of CureVac, said: "We are pleased to partner with Rentschler Biopharma, whose quality work is well known in the industry, to conduct key aspects of the CVnCoV production process. CureVac has started building an integrated European vaccine manufacturing network with several CDMO partners. With this strategy, the company will expect a significant increase in manufacturing capacity for CVnCoV, potentially reaching up to several hundred million doses per year while mitigating potential supply chain risks."

Up to 80 highly qualified new team members
Frank Mathias, CEO of Rentschler Biopharma, said: "Rentschler Biopharma has extensive experience in working with the most complex biopharmaceuticals and our expert team is dedicated to meeting CureVac's high expectations in producing their mRNA vaccine against COVID-19. We are preparing now to be ready to manufacture commercial supply, and are already setting up the production suite. We are currently looking to hire up to 80 highly qualified new team members, such as lab technicians and bioprocess engineers, to contribute to this important project and help us satisfy the increasing demand for life-saving biopharmaceuticals in the long-term."

Joint efforts to ensure the global access to COVID-19 vaccines
CureVac has started the clinical Phase 2b/3 trial with its mRNA-based vaccine candidate against SARS-CoV-2, and therefore, is preparing the start of commercial production to meet global demands.
Federico Pollano, Senior Vice President Global Business Development of Rentschler Biopharma, added: "From the beginning of our planning process, the relationship between the CureVac and Rentschler Biopharma teams has been highly collaborative, driven by our common goal of doing our part to address the major global need for safe and effective vaccines against COVID-19. We are working tirelessly to optimize the production chain and then obtain the necessary regulatory certifications, so that we can begin manufacturing large-scale commercial supply as soon as possible."
About CVnCoV
CureVac began development of its mRNA-based COVID-19 vaccine candidate in January 2020. The vaccine is an optimized, non-chemically modified mRNA, encoding the prefusion stabilized full-length spike protein of the SARS-CoV-2 virus, and formulated within Lipid Nano Particles (LNPs). Phase 1 and 2a clinical trials of CVnCoV began in June and September 2020, respectively. Phase 1 interim data reported in November 2020 showed that CVnCoV was generally well tolerated across all tested doses and induced strong antibody responses in addition to first indication of T cell activation. The quality of immune response was comparable to recovered COVID-19 patients, closely mimicking the immune response after natural COVID-19 infection. The data supported CureVac's decision to advance a 12µg dose into its current pivotal Phase 2b/3 study, the HERALD study, which started in December 2020. Clinical trial material is provided by the company's substantial production capacities for mRNA vaccines at its headquarters in Tübingen, supported by the current expansion of manufacturing capacities in Europe, allowing broad-scale manufacturing of CVnCoV for potential commercial supply preparedness.
Resources
Rentschler BioPharma. (2021, February 1).CureVac and Rentschler Biopharma Ramp up Manufacturing of COVID-19 Vaccine, CVnCoV [Joint press release].